The bus in My Summer Car is a 1988 Scania K 112 CL. It is an NPC-driven vehicle that travels in a clockwise direction around the highway and finishing its journey in Peräjärvi.
The bus ticket costs 25 mk. After paying, the player can sit in any of the seats by pressing ⏎ when the passenger mode icon 

comes on the screen.
The bus drives at fairly slow speeds, slower than most cars seen on the highway. There are buttons above each seat to stop the bus if the player wants to get out at the next bus stop. The bus can also be boarded from any of the bus stops along the highway, the bus will stop if the player character is standing at a stop.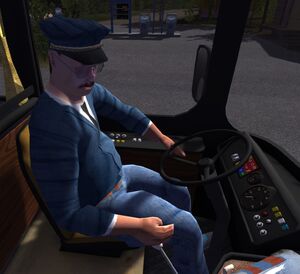 The driver of the bus, Kari Lätänen, looks to be a middle-aged man wearing sunglasses and a blue bus driver's uniform. He has short brown hair and a mustache. He also wears jeans similar to that of the drunken brawler.
The bus operates all day, even during the night on a schedule. The bus has text on the front, sides, and back that read "Lätäsen Liikenne Oy" which translates to "Lätänen's Transport Ltd."
Bus stops
[
]
Main article: Bus stop
The bus stops at these bus stops:
Peräjärvi. This is the main bus stop. It has a shelter and the bus stops automatically here.
Loppe. This is a small bus stop, only the bus stop sign without the shelter is present.
Loppentie. A small bus stop, almost identical to the Loppe stop.
Rykipohja. A bigger bus stop with a bus shelter.
Rules
[
]
Do not throw trash in the bus.
Do not drink alcohol on the bus.
Do not smoke cigarettes on the bus.
Do not show inappropriate hand gestures to the driver.
Do not spam the stop button.
Not following these rules may result in getting kicked off the bus.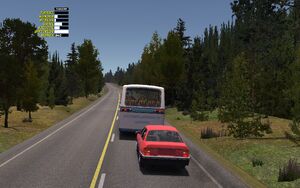 Trivia
[
]