This article is about the grille found on the dirt track. For the stock grille, see Grille.
The GT grille is a custom Satsuma part that can be found along with RPM gauge on the south-east side of the dirt track, just before the hairpin corner. It is attached to the front of the car with 2x6mm bolts. Installing the GT grille will replace the original grille. The style matches the GT steering wheel, center console GT, GT rims and rocker cover GT.
This non-standard grille will offer an increase in air flow to the engine, therefore increasing cooling performance. It can also be painted a different colour by using spray paints.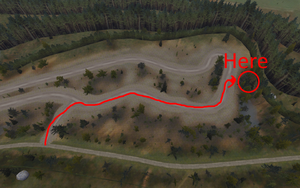 Trivia
[
]