Roblox: DeepWoken - The Loop
Play Sound
This article is about Player's home. For other ones, see Houses.
The player's home (

: koti) is located in the Kesselinperä area. The home address is Kesselinperäntie 3 and the postal code is 62362 Alivieska. The postal code isn't valid, but it points to somewhere in South Ostrobothnia.
Activities
[
]
The following things can be found in the player's home: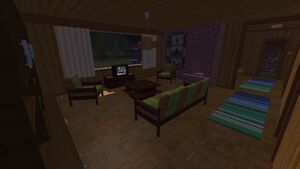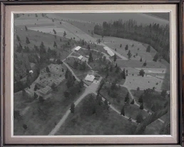 House fires
[
]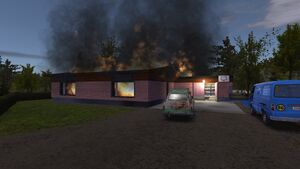 House fires can render certain parts of the house completely unusable. There is no in-game way to repair destroyed rooms. Standing in the fire for too long will cause the player to die.
Fire extinguishers can be used to extinguish house fires. If the player responds quickly it may be possible to save the room in which the fire started, otherwise the player will have to work to contain the spreading fire. Several fire extinguishers may be required to put out a big house fire.
There is a smoke detector in the main hallway that will alert the player of an appliance that is smoking and about to cause a fire. This gives the player about 30 seconds to turn off the appliance before a fire starts. There is no smoke warning for a fireplace fire, cigarette fire, fireworks fire, or explosive gas fire.
There are several ways to start a house fire:
A house fire will not extinguish itself — rather, it will keep on burning until player extinguishes it. If you save the game during a house fire, after reloading the whole house will be burnt down.
Without game modifications, there are no ways to reverse damage from house fires.
Trivia
[
]
Bugs
[
]
Specific (but unknown) inputs can start a house fire while the player is not at home, as well as random door openings. These bugs have been confirmed by Toplessgun himself.[2]
References
[
]
↑ Toplessgun - 29 December 2016: "LOL, there are no ghosts. The doors are bugging because unfinished door optimization change that slipped in to this latest update. And to address a more serious issue: there are no jump scares in this game, I hate those."
↑ Nov 19,2018 @4:15pm - - - Toplessgun: "There is something funny how the unexplained fire always seems to start when not at home. There is nothing in the game that would cause fire only because the player is not home. Direct lightning strike can cause an "unexplained" fire but if there is no thunder in the area that is out of question as well..."