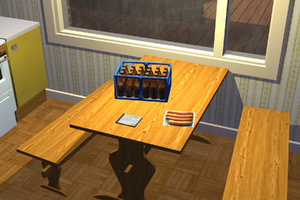 There are various types of items in My Summer Car, ranging from highly important to borderline useless. These items are separated into three categories: food and drink consists of items that can be eaten or drunk by the player character, furniture consists of items that can be found at Jokke's house during the moving job, and any other items that are not part of these categories are miscellaneous/other items.
Below is a complete list of items, and a brief explanation of what they do (click on the images to enlarge them).
Food and drink
[
]
Main article: Food and drink
Item
Purpose

Beer bottle
Decreases thirst, increases drunkenness by a slight amount.

Beer case
A plastic case that contains 24 beer bottles.

Booze
A highly alcoholic beverage that increases drunkenness by a huge amount.

Coffee
Decreases fatigue; the player character will develop a caffeine addiction from too much coffee.

Coffee cup
Filled with coffee brewed using the coffee pan.

Juice
Decreases hunger slightly, bottle can be used to store kilju.

Kilju
Can be sold to Jokke for varying amounts of money.

Can also be drank for a varying amount of drunkenness

Macaron box
Decreases hunger.

Milk
Decreases hunger and thirst.

Moose meat
Decreases hunger.

Pike
Decreases hunger.

Pizza
Decreases hunger.

Potato chips
Decreases hunger, increases thirst by a huge amount.

Sausage
Decreases hunger.

Sausage with fries
Decreases hunger.

Sausages
Decreases hunger.

Spirit
Extremely potent alcoholic substance, causes major drunkenness and might cause blindness.

Tray
Contains various food items, served to the player in jail.

Vodka shot
Increases drunkenness by a half amount.
Other items
[
]
Jokke's furniture
[
]