The Notepad (

: Muistio) is a binded paper book found in the house, on the countertop in the kitchen (near the doorway). It can be opened and written in with pencil, allowing text to be erased later. Open the notebook by pressing F while looking at the notebook. Click LMB on a line to begin typing, the current line will highlight yellow. Exit the book by pressing Esc .
Mechanics
[
]
There is only 5 pages in the notepad, each with 10 lines, looping back once the 5th page is met. There is a 34 character limit on each line, allowing a total of 1,700 possible characters written in one book.
The notebook contents are saved regardless of whether the player saves when exiting, even force closing the game will save the notebook contents. In fact, the content of the notebook is shared between game saves, allowing the player to write a note for his next incarnation to read!
Trivia
[
]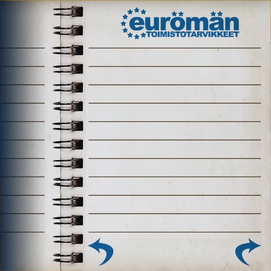 The name on the cover, "Euroman Toimistotarvikkeet," translates to Euroman Office Supplies in English.