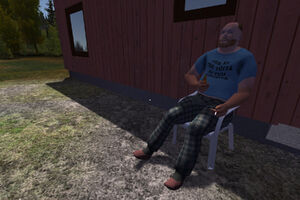 In addition to the player, shopkeeper Teimo, mechanic Fleetari, the car inspector Lindell and the bus driver, there are some other people who live in Alivieska:
The Kesseli family, who own the septic truck and the van. According to the note on the fridge, the owner of the van is player's uncle, so the player is related to the Kesseli family. In Kesselinperä near player's home there are two mailboxes, one with player's surname and one with Kesseli name.
Jokke, the Drunk Guy who calls for a ride.
The two drunk guys who spend their nights at Pub Nappo, discussing about random things, mostly about sausage factory which fired many workers.
The Firewood Guy.
The guy who lives in Loppe, in a red house with a pitched roof. He's very thankful.
Another guy who lives in Loppe, in a red flat roof house opposite of the car repair shop. He has a boy, Samppa who makes the job call to the player but is not seen or heard anywhere else.
Samppa, a boy who calls the player to empty the septic tank, when his dad is drunk.
The guy who lives in a yellow house with a septic tank in Peräjärvi. His dialect sounds like he's from the southwest coast of Finland.
The guy who lives in a red house with a septic tank in Peräjärvi. It seems that he thinks the whole septic tank emptying business is rather bothersome and wants everybody to just continue with their lives.
The guy who has a house with a septic tank, to the south of the firewood guy. He speaks with a low rough voice and wants his septic tank emptied immediately. He has a kind of a southwestern dialect.
Pena, the guy who drives around the dirt roads in a small green car.
Nine policemen (two with a radar, two taking breathalyser tests, four in two police cars and one walking around Peräjärvi)
Log truck driver (Not in the game anymore)
Beer truck driver
Jani, the driver of the yellow car
Sirkka, the player character's grandmother
The office worker at the wastewater treatment plant
The person watching over the strawberry field
Yellow van driver
Other small car drivers
Two guys (in addition to Fleetari) who are organising the rally
Pedestrians who currently only serve as an AI test can be found walking around Alivieska.
The strange ventti dealer
A lot of random people all around the backroads (during the rally)
The person who looks out the window by the Pub and Store.
Almost all the guys who sit outside their houses waiting for their septic tanks to be emptied have the same text on their shirts "jos ei tee töitä ei tuu virheitä", which means "if you don't work, there won't be mistakes".