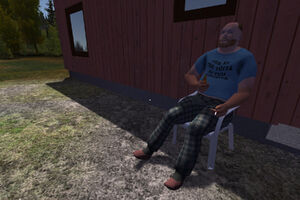 In addition to the player and his parents who are currently on vacation, there are some other people who live in Alivieska:
The Kesseli family, who own the septic truck and the van. According to the note on the fridge, the owner of the van is the player's uncle, so the player is related to the Kesseli family. In Kesselinperä near player's home there are two mailboxes, one with the player's surname and one with the Kesseli name.
Jouko, the drunk guy who calls for a ride and buys kilju.
Jouko's wife which he sometimes talks about.
The firewood guy.
The guy who has a house with a septic tank, to the south of the firewood guy, named Kusenius. He speaks with a low rough voice and wants his septic tank emptied immediately. He has a kind of a southwestern dialect.
Fleetari, owner of the Fleetari Repair Shop in Loppe.
The guy who lives in Loppe, in a red house with a pitched roof with a septic tank. He's very thankful.
Another guy who lives in Loppe, in a red flat roof house opposite of the car repair shop. He has a son, Samppa who makes the septic tank job call to the player but is not seen or heard anywhere else.
Samppa, a boy who calls the player to empty the septic tank, when his dad is drunk.
A mysterious figure residing in destroyed mansion near Loppe.
The strange ventti dealer. Only his Surname is known (Ritoranta).
Removed residents
[
]
Trivia
[
]
Almost all the guys who sit outside their houses waiting for their septic tanks to be emptied have the same text on their shirts "jos ei tee töitä ei tuu virheitä", which means "if you don't work, there won't be mistakes".