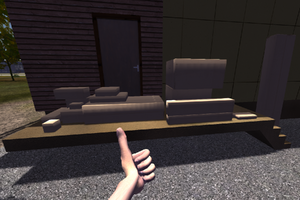 If you desire, you can upgrade your Satsuma with aftermarket parts, which you order from the AMIS AUTO magazine located in your garage at home. The only exceptions are the long coil springs that can be found at Fleetari's junkyard, tires, and the roll cage that can be installed by Fleetari.
Ordering items
Edit
Open the Amis Auto magazine located in your garage. Flip through the pages choosing the parts you want, then click on the "TILAA NYT" button. This will create an envelope. After that, go to Teimo's Shop and drop the letter to the post box, which is located next to the door. Wait until you receive a call from Teimo to notify you for your order.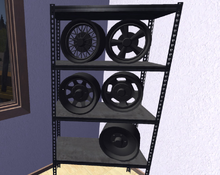 Picking up order
Edit
After the phone call from Teimo, you should go to the store and pick up your order. When you get into the store, pay (left mouse button) the post paper on the counter. You can pay the order at night as well. Your parts will be located to the docking bay, which is located to the left of the shop. Similar to grocery bags, the parts will pop out of the cardboard boxes if you save.
AMIS AUTO aftermarket parts
Edit
| Name | Price (mk) | Replaces original? | Notes |
| --- | --- | --- | --- |
| Front spoiler | 249 | No | Can be painted separately |
| Duck tail spoiler | 199 | No | Can be painted separately |
| Rear wing | 329 | No | Can be painted separately |
| Fiberglass hood | 2,245 | Yes | Attached via pins. Must be removed completely to access engine bay. |
| Fender flare and front lip | 1,195 | No | Can be painted separately |
| Window grille (louvres) | 219 | No | Reduces rear window visibility |
| Wide steel rims | 1,205 | Yes | - |
| Octo rims | 1,895 | Yes | - |
| Hayosiko rims | 1,975 | Yes | - |
| Rally rims | 2,950 | Yes | Does not require rally tyres. |
| Slot rims | 1,950 | Yes | - |
| Spoke rims | 2,200 | Yes | - |
| Turbine rims | 2,310 | Yes | - |
| Racing rims | 2,545 | Yes | - |
| Sport steering wheel | 349 | Yes | Blocks player's view of dials |
| Custom dashboard covers | 295 | No | - |
| Custom seat covers | 139 | No | Stock seats only |
| Custom steering wheel covers | 49 | No | Stock wheel only |
| Air/fuel mixture gauge | 549 | No | Helps you adjust the carburators |
| Gauges for oil, cooling and charge | 299 | No | Good for troubleshooting |
| Racing tachometer | 829 | No | Can adjust shift light setting via mouse wheel when installed; partially blocks speedometer if attached to the steering column |
| Subwoofers | 695 | No | Requires CD player |
| CD player | 1,395 | Yes | Changing channels is faster than the stock radio |
| Steel headers | 649 | Yes | Requires racing exhaust & muffler |
| Racing exhaust | 429 | Yes | Requires steel headers & racing muffler |
| Racing muffler | 169 | Yes | Requires steel headers & racing exhaust |
| Twin carburators | 1,750 | Yes | Will need tuning, see this guide |
| Racing flywheel | 1,495 | Yes | Lowers the engine inertia |
| Racing radiator | 1,215 | Yes | Much better cooling than default radiator |
| Racing harness | 645 | Yes | Required for the rally. Requires bucket seats and roll cage, greatly decreases chance of dying in a crash. |
| Bucket seats | 5,095 | Yes | Required for the rally |
| Rally steering wheel | 895 | Yes | Yellow stripe on top helps keep track of wheel center |
| Black window wrap | 299 | No | Used on the rear windows to tint them. Unlimited use. |
| Racing carburators | 7,250 | Yes | Does not require an air filter |
| N2O kit | 5,145 | No | Only works with the racing carburator |
| Roll cage | 5,500 | Yes | Replaces the rear seats, can be bought at Fleetari Repair Shop, greatly decreases chance of dying when flipping the car. |
| Rally suspension kit | 9,550 | Yes | Increases the car's height and handling. |