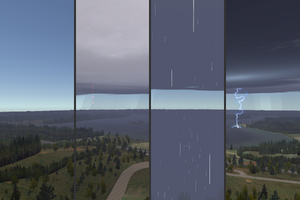 My Summer Car has a dynamic weather system, based on Finnish climate conditions in the summer. There are four distinguishable types of weather in the game, all made to be as realistic as possible to fit in with the overall realism of My Summer Car.
The weather is also an important part of the game's pacing, as some of the weather types affect the availability of certain activities. The current position of the clouds over Alivieska can be checked on page 188 of the teletext service on the TV.
Types of weather
Edit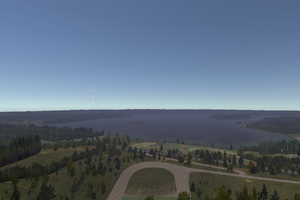 Most of the time the weather is sunny with no clouds in the sky. This is the most opportune time to partake in any of the various outdoor activities, such as visiting
Sirkka
, as she is only present at
her house
when there are no clouds in the sky.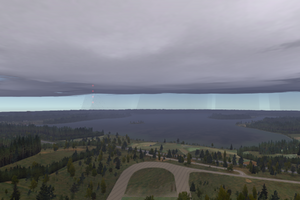 The sky is covered in light grey clouds, reducing visibility by partially blocking sunlight. The conical rain areas can be easily seen at this time.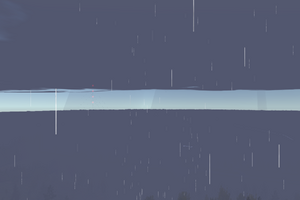 The darker, conical areas in the sky mark the locations where it is currently raining during a thunderstorm or when it is cloudy. Being inside one of these areas will cause an immediate downpour around the player, and reduce visibility by a considerable amount. Rain does not have an effect on any of the
cars
or
car parts
.
Thunderstorm
Edit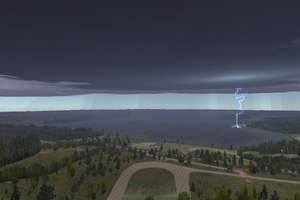 Dark grey clouds, frequent lighting strikes, and possible heavy rain. One shouldn't answer the
phone
during a thunderstorm, because there is a risk of
dying from an electric shock
. A lightning strike will cause an explosion at the point of impact, scattering any nearby objects. The
house
lights will also flicker during a thunderstorm, and a direct hit on the building might cause a
house fire
. When the storm is coming or has subsided, lightning flashes can still be seen and distant rumble heard.
Patch notes
Edit