Removed content
The content that this article covers has been removed from My Summer Car and is no longer accessible.
This article is about the 2016 present. For the 2018 version, see Holiday present.
The Christmas present (also known as Xmas present in-game) is an item which could be found in front of the fireplace in the player's house. It was only available during Christmas 2016. The present can be opened by looking at it and pressing F. "Hyvää Joulua!", "Merry Christmas!", and the player's name are written on the card on top of the present.
After cheerfully opening your beautifully wrapped Christmas present, you will enjoy your nice gift: Christmas lights, an envelope with money (contains a random amount of money), and a good old bottle of booze.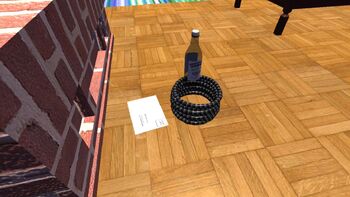 Christmas lights
Edit
Main article: Xmas lights
The Christmas lights that were included in the present can be installed on the Satsuma. To install them, just hover over the wipers and you should be able to find the right place. The lights flash four colours: green, blue, red, and yellow. Since the 5 February 2017 update, the lights can be found at the top of the garage shelf.